I hope that y'all had a great weekend! B and I sure did!

Lots of laziness, dinner with friends, and getting some things done around the house! :)
It's such a great way to meet new bloggie friends and to show them some love ... And hey, even if I'm not a big Valentine's person ... Everyone wants some love on the 14th, right?! :)
So if you want to play along ... here's the deal ...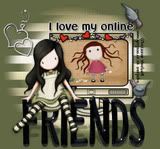 >
1. Follow the host (Marie) and the guest hosts on GFC. For this week, we are the number 1, 2 and 3 spots on the linky. (We will follow back.) Leave a comment to let us know.
2. Follow as many people as you can and be sure to let them know that you are from the
'I love my Online Friends Monday Hop'.
3. You are not required to, but it will be great if you could grab our button and make a post about this hop. The more people that see this hop, the more blogs for us to visit and the more followers we gain.
4. Every week Marie will pick one person to 'Guest Host' the hop with her. If you would like to be considered for the guest host position, all you need to do is grab our button, write a post about the hop and follow me on GFC. Leave a comment under this post to let Marie know if you are interested in guest hosting.
So come on! Link up! And meet some FAB new people!
xo!