As y'all are probably aware ... Monday's are usually the day that I share what's on our menu board ...
This Monday however, I have one of my FAVE gals who's sharing a

DELICIOUS

recipe with us!
Hi, I'm KT and I blog over at
KT's Refinishing School
. I'm so thrilled to be blogging for Lauren today while she is in Charleston taking a much deserved break with friends. Most Mondays I share my menu for the week in Menu Monday (see last week's
here
) and Lauren asked me to share a recipe of one of my favorite foods, Bread Pudding, and I am more than happy to oblige.
With St. Patrick's Day just last week, I thought I would share a recipe for Irish Bread Pudding with Caramel-Whiskey Sauce, a recipe I made for St. Patrick's Day last year. This is a great recipe because you get all of the flavor of a traditional bread pudding without the guilt (think less than 400 calories a serving!)
Even leprechaun
Woods
approves!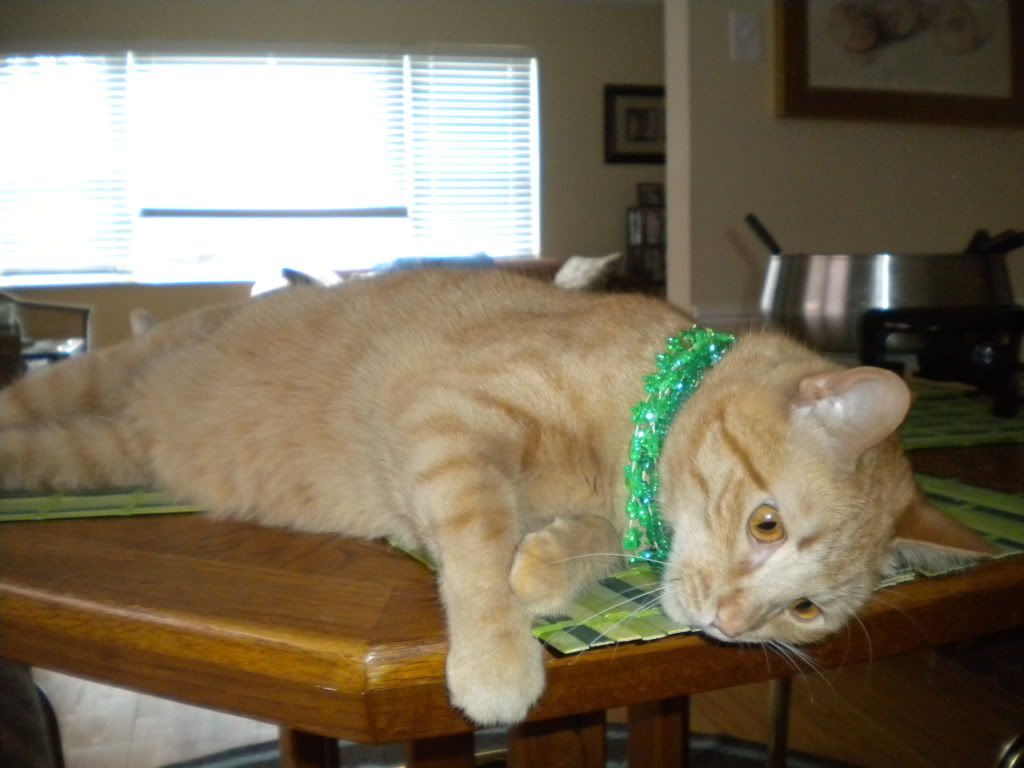 Woods wasn't super thrilled with his beads, hence the hungover look!
Irish Bread Pudding with Caramel-Whiskey Sauce, modified from The Best of Cooking Light cookbook
1/4 cup light butter, melted
1 (10 ounce) French bread baguette, cut into 1/2 inch cubes--day old, crusty bread is best. It will absorb the butter and custard better that way. If you don't have day-old bread, you can dry it out by baking it for ten minutes at 350 degrees.
1/2 cup raisins--golden raisins would be gorgeous in this recipe but either variety will do
1/4 cup Irish whiskey
1 3/4 cups 1% low-fat milk
1 cup sugar
1 tablespoon vanilla extract
1 (12 ounce) can evaporated fat-free milk
2 large eggs, lightly beaten
Cooking spray
1 tablespoon sugar
1 teaspoon ground cinnamon
* Can substitute 1/4 cup apple juice for whiskey, if desired.
For the caramel-whiskey sauce
1 1/2 cups sugar
2/3 cup water
1/4 cup (2 ounces) 1/3 less fat cream cheese
1/4 cup Irish Whiskey
1/4 cup 1% low-fat milk
*Irish whiskey can be substituted for 1 tablespoon imitation rum extract and 3 tablespoons of water
Kitchen Supplies:
Baking sheet (if you are using fresh bread that needs to be dried out)
Bread knife
Three mixing bowls--small, medium and large
Whisk
9 x 13 baking dish--I used a pie pan and it worked just fine!
Small heavy saucepan
Preheat oven to 350 degrees. Combine raisins and whiskey (or apple juice) in a small bowl; cover and let stand 10 minutes or until soft. Do not drain.
Combine bread cubes with melted butter in a medium bowl, tossing to coat and set aside. Combine 1% milk, sugar, vanilla extract, evaporated milk and eggs; stirring well with a whisk. Add bread and raisin mixtures, pressing gently to moisten and let bread mixture stand for 15 minutes. Spoon mixture into baking vessel of your choice coated with cooking spray. Combine 1 tablespoon sugar and ground cinnamon and sprinkle over pudding.
Bake at 350 degrees for thirty-five minutes or until pudding is set. While the pudding bakes, combine sugar and water in a small saucepan over medium-high heat, stirring constantly until sugar dissolves. Cook an additional 15 minutes or until golden but do not stir! Remove from heat and carefully add butter and cream cheese, stirring constantly with a whisk. The mixture will be extremely hot and bubble vigorously while you whisk. Cool slightly then stir in whiskey and milk.
Remove bread pudding from oven and serve warm with caramel-whiskey sauce drizzled over the top. Enjoy!
Serving size: (1) 3 inch square and 2 tablespoons of sauce
Calories (including sauce): 362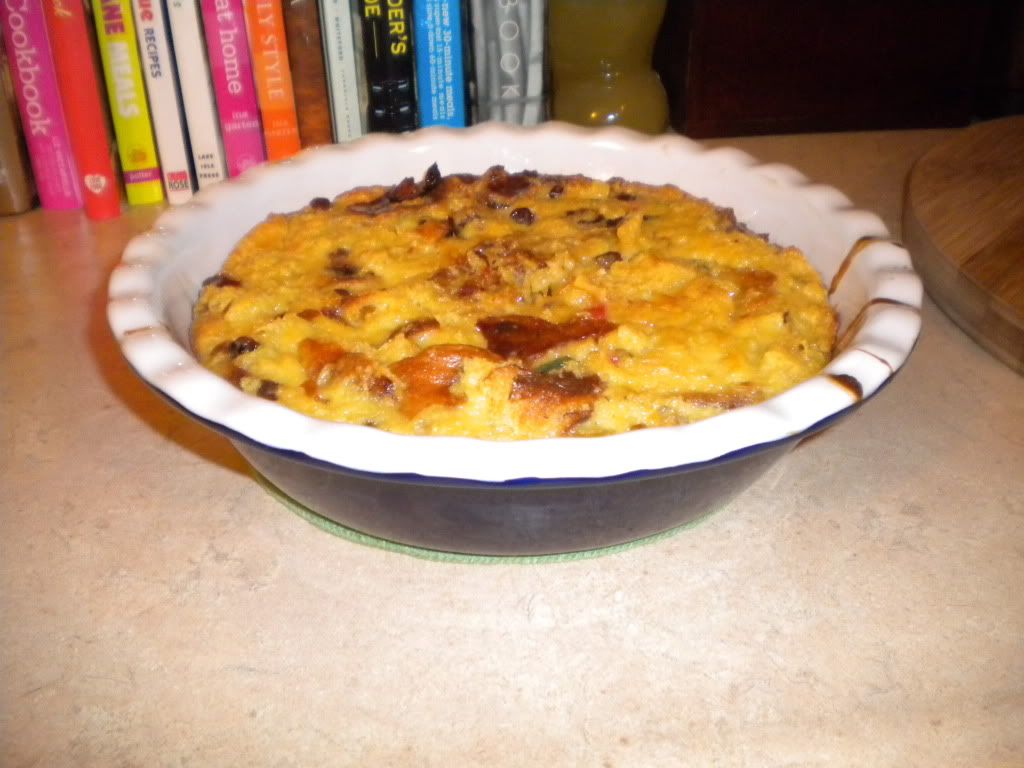 This photo was taken last year, hence the different arrangement on the counter behind the bread pudding. My cookbooks are now in our pantry and our stand mixer has taken their place on the counter in case you were curious!
Now that I've shared that recipe with you
, let's talk bread pudding. I love traditional bread pudding like the one above but recently had a chocolate-orange version that was to die for!
What's your favorite flavor?
Another big thank you to Lauren for the opportunity to share this recipe with you all. Please let me know if you try the recipe and have a great Monday!
Ummmm Hello Deliciousness! I adore bread pudding {though at this point y'all are probably wondering if there's a food I don't like ... answer: NOPE!}
Thanks so much for sharing KT! Now y'all be sure to pop over to KT's Refinishing School and give this lovely lady a big 'HEY!'